Ready to win big? Try your chances at winning a HUGE jackpot on our Progressive slots!
Featured Progressives
After you reach level 25, four progressive jackpots will be featured in the main game lobby.
The featured slot machines are rotated frequently and often include slots that are only available at higher levels, like Dancing Drums.
There's no need to worry about matching specific symbols or triggering a specific bonus. For the chance to win a progressive jackpot, all you need to do is make a qualifying bet. And if you're not interested, just tap on the x in the upper right-hand corner to load into the slot normally.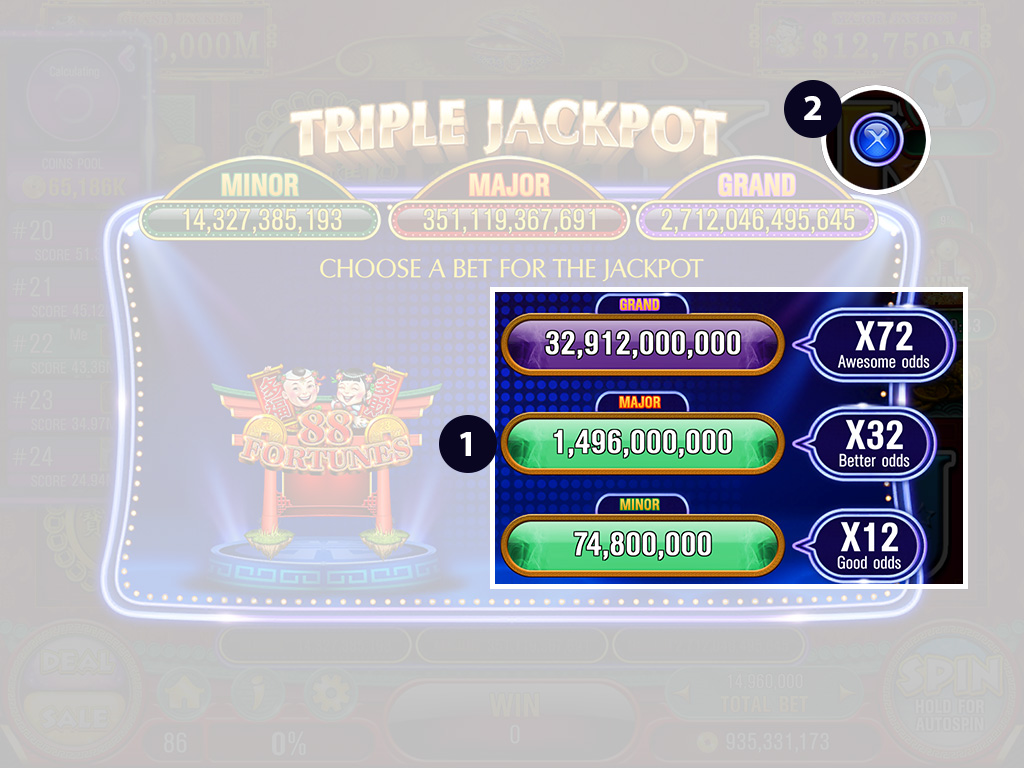 Jackpot Arena
The Jackpot Arena is a special area in 88 Fortunes that is unlocked at level 25 and it features even more progressive slot machines! And just like the featured progressives you see when you are in the game lobby, the featured Jackpot Arena slots often include unlocked slot machines that are only available at higher levels.
To enter the Jackpot Arena, tap on the Jackpot Arena icon located in the upper left-hand corner of the screen.
To exit the Jackpot Arena, just tap on the home icon in the lower left-hand corner of the screen.
In-Game Jackpot Features
Many of our slot machines also have an in-game jackpot feature. While they share the same name of Jackpot, a slot-specific jackpot bonus is separate from the progressive jackpots.
Slot machines can also have a progressive jackpot feature along with a slot-specific jackpot feature!
For progressives, any qualifying bet has a chance to win the jackpot. However, for slot-specific jackpot features, there is usually some requirement for symbol placement on reels or the matching of specific symbols.
Getting an in-slot jackpot will not reward you with the progressive jackpot.